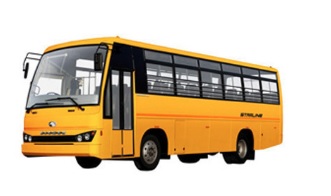 We at St Jude own Six (6) buses running to & from various destinations to enable/ensure the safe travel of our students.
Bus No.1 : Padavarad, Peruvamkulangara, Company Padi, Anchery, Thottapadi, Mariyapuram, Palakuzhy, Thiruthur Temple Via, Chiyyaram, Cheerachi, Anakallu
Bus No.2 : Marathakkara, Ollur, Thaikkattussery, Thalore, Jerusalem Bypass, Konikkara, Paliakkara, Thrikkur
Bus No.3 : Hill gardens, Ancherychira, Kachery, Nellikkunnu, Chelakkottukara, Valarkavu, Kuriachira ,Gosaikunnu, Mission Quarters, Thrissur Sakthan Stand, Manorama Via, Jubile Mission, East Fort, Kizhakumpattukara
Bus No.4 : Elamthuruthy, Kalady, Eravimangalam, Poochetty, Moorkanikkara Valakkavu, Achankunnu, Chavarampadam Kannara Via
Bus No.5 : Elamthuruthy, Puthur, Vettukad, Manamangalam, Marottichal, Vallur, Kolamkundu, Cherukunnu, Ashadeepam, Ezhamkallu, Payyapilly Moola
Bus No.6 : Nadathara, Mannuthy, Valarkavu, Ollukara, Agri.University
Guidelines for students availing Bus Facility
Students should not stand near the doorway of the bus.
Avoid keeping the hand or head outside the bus which might turn out to be fatal
Intimate the driver/ bus in charge/ school office/ class teachers if you will notice any damage in the bus.
Tampering or damaging the seats or any other parts of the bus is strictly prohibited.
If bus facility is to be withdrawn intimate the school office by submitting the completed Bus Form.